Hello everyone! Recently, I was nominated by
Lacquered Nails
and
Nevermind Suzi
to recieve the Versatile Blogger award! How awesome?!?!
The Lacquered Nails' NOTD and Nomination Post
and
Nevermind Suzi's WOW!! I won a blog award =D Post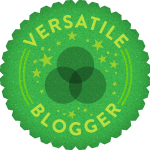 There's my lovely Versatile Blogger badge! :)
The rules of the Versatile Blogger award are:
Nominate 15 bloggers who are "relatively" new to blogging.

Let them know that you have nominated them.

Share 7 random facts about yourself.

Thank the bloggers that have nominated you.

Add the Versatile Blogger Award picture to your blog post.
I think that most people who recieve the Versatile Blogger Award have trouble nominating new bloggers because they mostly follow already-established blogs. I'm one of those people too. However, I think that this award is a great way for me to discover new blogs, a great way for my followers (20 now!) to discover new blogs, and the people I nominate to discover my blog, along with the other bloggers that I nominate! It's an all around awesome award! Anyway, here's the bloggers that I nominate:
Congrats to the people I've nominated! I know that I got nominated twice for this award, so if you've already been nominated or already recieved the award, I'm sorry! It just means that I ton of people think that you have an award-worthy blog! :)
And now for the 7 random facts:
I've been addicted to nail polish for about a year now, but I just decided to make a nail blog about 2 months ago! And I also want my blog to be a big success, but I know that it takes a lot of time and effort to create a really successful blog! And I my goal is to have 50 followers by the end of August... But I really don't think I'm gonna make it. Oh well.

Along with being addicted to nail polish, I love everything else that has been labeled as "girly". I love clothes. I love shoes. I love purses. I love makeup. I love fashion. I love hair. I love accesories. If it's girly, I love it!

I have another addiction... MUSIC! I always have to have music of some sort playing. I love every single genre of music, except for country and dubstep! Yuck!

My favorite person ever is Michael Jackson. I love him so much. Nothing will ever change that. I do get a lot of hate for loving him, so please don't hate on me here!

In addition to Michael Jackson, my other favorite artists/bands are Lady Gaga, Maroon 5, Aerosmith, Guns n Roses, and Paramore!

Right now I work as a secretary at a car dealership. I do a lot of calling, filing, mail, etc. And all of it takes a toll on my nails....

I think that getting products to review and getting nail mail are about the most amazing things EVER!
And that's about it for the Versatile Blogger Award! Thank you again to the two lovely ladies who nominated me! And congrats to the bloggers that I nominated! And thank you for reading!
~Caroline